Call for Urban Design of Guangdong-Hong Kong-Macao Innovation Cooperation Demonstration Zone
Guangzhou Municipal Planning and Natural Resources Bureau and Nansha District People's Government of Guangzhou City released the announcement of the International Urban Design Competition of Guangdong-Hong Kong-Macao Innovation Cooperation Demonstration Zone, which collect forward-looking and innovative urban design from the registration of domestic and overseas design institutions. The Institution that win the right of integrating and optimizing the competition results can get fee of RMB 2.6 MILLION YUAN (¥2,600,000.00).
    6 institutions will be invited to participate in the competition. 3 winning schemes will be selected and the participating institutions of them can receive fee of RMB 1.6 Million YUAN(¥1,600,000.00). Only one winning scheme will be determined to win the right of integrating and optimizing the competition results, which can totally receive fee of RMB 2.6 Million YUAN(¥2,600,000.00). Each participating institution of the effective design result can get a cost compensation of RMB 1 Million YUAN (¥1,000,000.00).
    The scope of the Competition is divided into two levels of overall conceptual design and detailed design. Overall conceptual design includes south of Bayong (8th canal), west of Longxue South Waterway, east of Hongqili Waterway and north of Shenzhen-Zhongshan Bridge, covering an area of about 71 square kilometers. Detailed design includes south of Shiwuyong (the 15th canal) and west of Lingxin Avenue, covering an area of about 8 square kilometers, Nansha Branch of Guangzhou Municipal Planning and Natural Resources Bureau here say.
The requirements of overall conceptual design are that the opportunities, such as the successive implementation of major transportation infrastructure and the closer linkage between the elements of the inner bay circle and the population in Greater Bay Area, are seized, the vision and positioning of the planning objectives are determined, the industrial and functional planning is carried out, and the functional spatial layout for driving regional development in the future is planned on the premise of creating a landscape pattern integrating sea, river, field, city and wetland, according to the new situation of regional development. The requirements of peak carbon emission and green development are implemented, and the overall urban feature, living environment, supporting services, ecological environment and transportation are optimized and improved.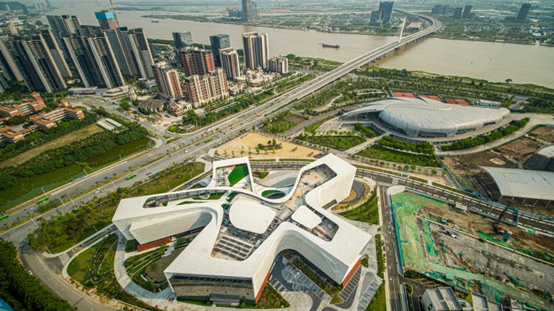 Moreover, on the basis of the overall conceptual design, the requirements of detailed design are that the supporting conditions are analyzed and detailed design is carried out, including functional format planning, land layout optimization, land development intensity, vertical design, traffic organization, public service facilities planning, open space, and urban style control,  according to the functional orientation of the detailed design range of 8 square kilometers and the assumption of industrial space demand. At the same time, no less than one node should be selected for deepening design.
It is said that the registration time is from 10:00 on July 13 to 17:00 on August 3, 2021(Beijing time). The official release meeting of technical document will be tentatively held on August 10th, 2021. The deadline for submission of results is tentatively set in late October. The participating institutions should log in the website of Guangzhou Municipal Planning and Natural Resources Bureau (website: ghzyj.gz.gov.cn/), Guangzhou Nansha District People's government (website: www.gzns.gov.cn/), China Tendering and Bidding Public Service Platform (website: www.cebpubservice.com/) and Guangzi Electronic Bidding Platform (website: www.gzebid.cn/) to receive the detailed announcement and competition registration documents.
Amber Wilson is working in England as a medical doctor. She has deep knowledge about medication, health, how to live well and genetics. She writes articles about that medication field as a part-time service which is required to needy people. In recent months, most of her writing has been in collaboration
Disclaimer: The views, suggestions, and opinions expressed here are the sole responsibility of the experts. No Digest Express journalist was involved in the writing and production of this article.