New Design Magazine Launch By Students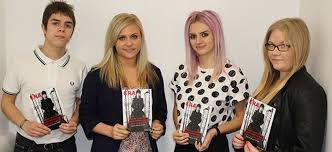 At the point when Diana Fonte and Jason Cerin were green beans, they understood that, in contrast to different colleges, USC didn't have a design magazine. The pair needed to make a space for understudies to express their innovativeness, so they shaped Haute Magazine, a workmanship and style driven distribution.
"If you are creative, you need to be able to do that. But a lot of times if you are not like, a film major, an art major, you don't have anywhere to put that creative energy, because a lot of the organizations aren't really based in that," said Fonte, a lesser studying advertising who fills in as the magazine's editorial manager in boss. "That's something that we saw a space for, and we wanted to showcase that work, showcase these incredible minds on campus, in the heart of one of the biggest cities in the world."
Haute Magazine propelled its first issue this semester. The association enables understudies to create both visual and composed substance. The magazine produces two issues for every year, and they go for around 200 pages, despite the fact that the present fall issue, their introduction issue, is very nearly 400 pages. Fonte said the magazine's articles investigate the crossing point of marvels/social issues and workmanship.
"Haute" originates from "high couture," or "high fashion," which came about somewhat from Fonte's affection for French culture and workmanship. Cerin, a lesser studying worldwide relations who fills in as the magazine's inventive executive, accepts that the capacity to scatter their work so helpfully has added to their prosperity and development.
"Just the scale of it and the level of content that we have been able to achieve is something that, in such a short amount of time, is something that we are very proud of," Cerin said.
The magazine has kept on developing and as of late worked together with Vans.
The Vans grounds advertising director for USC connected with Fonte, and enlightened her regarding the "Spirit of DIY" venture, an across the country activity that chooses 50 colleges the nation over, and 10 finalists to take an interest in a two-day venture, which incorporates a photoshoot.
Haute was picked to be the one out of two of the LA sections. It did a two-day venture with Vans, which incorporated a photoshoot with a few models, staff and photography generation, hair and cosmetics and a closet styling group for their up and coming issue.
"It's a really great opportunity, I think, to show people what we are trying to do here, how we're trying to give people access to creative opportunities," Fonte said.
One some portion of the procedure was finding their guide, Annenberg School for Communication and Journalism educator Christina Bellantoni, who said she was dazzled by the mockup issue.
"They presented their idea to me, and they really had done a lot of work ahead of time," Bellantoni said. "They had a mock-up issue, they had a vision, they had people, they had photographers lined up, they really had done their homework. I thought they were really organized and interesting, so I agreed."
In Spring 2019, Haute authoritatively appeared at the Involvement Fair with their recently made counterfeit up issue and wanted to enlist new individuals. The issue contained three huge highlights, including an understudy picture taker, an understudy melodic craftsman and an outside style architect that Fonte had gotten into contact with.
Presently, the club involves around 40 individuals, meets week after week and is made out of four distinct groups: a composing group, a photography group, a visual structure group and a promoting group.
The topic for Haute's fall 2019 issue is "Out of Context." According to Cerin, this thought is tied in with investigating content that may seem unique, or may not be seen as typical in the feeling of a design magazine, or only craftsmanship when all is said in done.
Initially, Fonte needed something progressively representative of L.A. culture, however she felt that the mission was not centered around LA way of life, yet carrying something new to grounds culture: "an elevated art, fashion, cultural representation to USC."
As far as the magazine's future, the consultant recommends that the two think about their inheritance.
"You always have to think about legacy at a college," Bellantoni said. "Because at some point, they will graduate and they're going to need people to take over the reins, or it will die … And I think with a student organization, it is the same thing. To continue to have success, they need to recruit people that are as passionate as they are — who are going to help it live on and continue to thrive."
Sophia  is an entrepreneur, marketer and writer. Also, she writes articles on health, business and technology. She is senior reporter across digital platforms. People can find her trying out new chili recipes, playing squash.
Disclaimer: The views, suggestions, and opinions expressed here are the sole responsibility of the experts. No Digest Express journalist was involved in the writing and production of this article.