Through Art Thinking about the Fens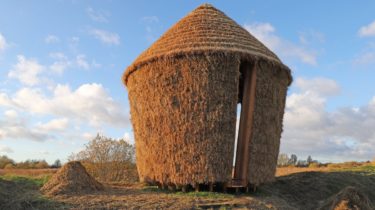 At Wicken Fen in Cambridgeshire another fine art offers those passing by an opportunity to unwind and think about the Fens from inside its dividers.
The sculptural fine art, entitled Mother…, was made by specialists Heather Peak and Ivan Morison of Studio Morison.
It is intended to mirror the sheaves that could once be found in fields across Britain. It was propelled by portrayals in Richard Mabey's book Nature Cure, in which he recoups from extreme gloom by strolling, watching and expounding on the excellent and unexplored scenes in the East of England.
"The ellipsis after Mother … suggests the omission of a second word – to be added by the viewer," clarifies craftsman Ivan Morison.
They gives their own models: "Mother Earth connects to ideas of the natural world – its supporting qualities – but also our own responsibilities and personal connections to it."
"Motherland connects us to the place we belong, within this landscape, within a community, within a country."
"Motherland makes us think of the sculpture as a vessel that might take us places. This could be on an imaginary journey around the solar system, or it could be a journey connecting the past with an imagined future – making the work a time machine, of sorts. Or it could be a journey within our own minds – a rehabilitative journey, from upset to calm."
Morison proceeds: "The sculpture offers a space to reflect on troubling thoughts, as well as an opportunity to perhaps still the mind for a while – by focusing on the simple material qualities of the work and the changing nature of the landscape that surrounds it."
The timber used to construct the figure was felled from the craftsmen's own woodland and processed by the pair at their workshop.
The dividers and rooftop are produced using nearby straw, with the covering executed in the conventional style by an ace thatcher whose first occupation as a student was to cover a bundle – or hayrick – at Wicken Fen.
John Williamson was born and raised in the Bronx, New York. He was a bookseller before shifting to reporter. He lives in New York City and is tall for no reason. He contributes in Digest Express as an editor.
Disclaimer: The views, suggestions, and opinions expressed here are the sole responsibility of the experts. No Digest Express journalist was involved in the writing and production of this article.