First Global Press Conference of the Lotus Exchange – London Station, England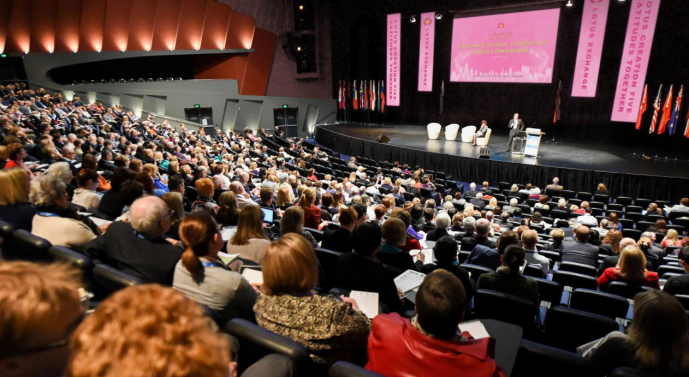 November 24, 2020 3:00 p.m, First "Lotus Exchange Global Press Conference-London Station, England" officially opened. Hosted by COIN UNION LIMITED, The Asian Block chain Association (ABS), the Australian Electronic Commerce Association (AECA), the Korean Block Chain Research and Education Institute (KBCI), the British Research Institute Coin Shares、 the British Investment Agency Passion Capital and other 100 industry associations and institutions, Net the core brand of the global decentralized exchange, Bringing together the core leaders of the Lotus Consensus community in 178 countries, Set up the upper, middle and lower trading service industry ecosystem, Witness the growth of Lotus exchanges.
Lotus Exchange as the world's leading decentralized digital asset exchange, relying on the experience of senior trading platform and high-looking situation judgment, decentralization as the core into the exchange field, combined with distributed storage technology, to achieve user asset custody, dealmaking, asset liquidation are placed on the block chain, all trading instructions are implemented by open source intelligent contracts, without the participation of trading platform to participate in the supervision, Perfect solution to the traditional centralized exchange "capital manipulation, data fraud, security loopholes, excess operating costs, trading restrictions" inherent drawbacks, will dominate the digital asset trading mode, To create a global interactive three-dimensional trading service market, for the global block chain trading service market prosperity, inserted the wings.
The President of the COIN UNION LIMITED Foundation William  attended and delivered a speech. He said,Since the launch of Lotus Exchange, the experience and response of consensus community users have been very good. Among the many exchanges, Lotus Exchange is undoubtedly the shining star. This innovative mechanism, which maximizes the value of user consensus, represents the most advanced form of decentralized exchange that can be foreseen at present, and is the most subversive application of decentralized technology.
LTS Token the opening day of trading is a miracle of 10 times the increase, Lotus the exchange has always insisted on the consensus value and interests of all users in the first place, we believe that a thriving decentralized trading platform, Only by sharing the wealth of block chain technology and obtaining richer, reliable and secure trading services will it be based on the industry and open a new era of decentralized exchanges.
Aria Lorence, chief development engineer of the Lotus exchange, said that after more than ten years of baptism, the blockchain trading service industry ushered in a transition period from germination to specialization and maturity. At present, most exchanges have the disadvantages of centralization, which drag down the pace of the trading service industry, Lotus the exchange insists on taking decentralization as the starting point, and tries its best to construct a truly decentralized digital asset trading environment.
Lotus Exchange also adopts reasonable and feasible power distribution mechanism and destruction mechanism to ensure the dynamic balance of output and destruction of the whole LTS ecology, integrates main chain access network, side chain node and cross chain consensus technology in the output mechanism, and realizes fast and efficient full chain design, IPFS storage mechanism, Proof  of Work, Capacity of Work on a safe and robust basis. Block packing of public chain is no longer the main goal of mining, and a large number of meaningless transactions are reduced by packing blocks free of charge, Avoid a large amount of resource consumption of miners, objectively improve the system transaction throughput. Based on this, a permanent storage mechanism of Internet data is constructed, which makes it more convenient for commercial organizations to carry out self-operation on the basis of LTS public chain, carry out value interconnection, apply circulation strategy, and construct a new block chain application new economic ecological circle.
The economist Michael Kevin pointed out that the essence of Lotus exchange consensus link is the revolution of community economic system. For a long time, humanity has been unable to address the very inequitable distribution of wealth. Bitcoin, POW、POS、IPFS and so on all raise and inspire the possibility that Lotus exchanges are very likely to establish a truly computationally based community economic system, measured by community value. This community economic system is likely to be the most equitable and reasonable distribution system, so that the community economic system can maintain the stability of the wealth system caused by the digital economy, the broad calculation force and the wealth system.
Lotus exchange has achieved a breakthrough from "single computing power" to "multi-latitude computing power ", from reducing mining costs and optimizing output structure, to create a more fair, easier to achieve, higher consensus value of the community economic system. It will push forward the expansion of computing power revolution to the whole field of digital assets to support the growth and expansion of digital wealth in the future and form a system of computing power distribution mechanism for sustainable development.
Lotus exchange will also use high-performance matchmaking engine technology, high-frequency trading quantization strategy, IPFS distributed storage technology to achieve high concurrent processing speed, learn from the IPFS distributed network system, build unlimited expandable server, solve the problem of block chain network efficiency and block expansion. Lotus exchange also adopts ring signature encryption algorithm to strengthen chain security governance. Generally speaking, the Lotus exchange will solve the problem that the block chain can not be triangular (decentralization, security, transaction processing efficiency coexist at the same time). Besides, LTS ecology also adds modular design and ease of use to the development process. For easy development and maintenance, the LTS is divided into three modules: technical module, user interaction module and business path module. In order to meet the operating system and development needs of different users and truly open source, LTS provide different application versions of the application system, and provide mobile services. Encourage third-party development agencies and LTS to jointly promote the global application of block chain technology, and develop a convenient and efficient popular block chain mobile terminal service.
Lotus exchange will reshape the blockchain trading service system, and with the help of advanced technologies such as AI, big data, cloud computing, 5G and Internet of things, it will digitize the traditional economy, accurately match and widely circulate, and finally realize the digital upgrading of the transaction service industry, and create a digital economic ecological alliance with unlimited data circulation, open value sharing and industrial collaborative innovation.
In the future, lotus exchange will also establish a set of financial investment system with high transparency, accessibility and inclusiveness through distributed open source agreement, minimize the risk of trust, make it easier and convenient for participants to get injection, and further open the financial system of blockchain world by means of decentralized lending agreement, and will be applied to currency issuance, currency transaction, loan and asset delivery E-commerce, investment and financing and other fields. With multi center trust as the core, we will create a new generation of value circulation network, so that digital assets can flow freely. To create a highly open financial services market that everyone can participate in. It enables anyone to create new markets, provide liquidity and build financial applications that were previously impossible to exist, and apply to digital assets, financial investment, equity bonds, data security and other fields.
Amber Wilson is working in England as a medical doctor. She has deep knowledge about medication, health, how to live well and genetics. She writes articles about that medication field as a part-time service which is required to needy people. In recent months, most of her writing has been in collaboration
Disclaimer: The views, suggestions, and opinions expressed here are the sole responsibility of the experts. No Digest Express journalist was involved in the writing and production of this article.